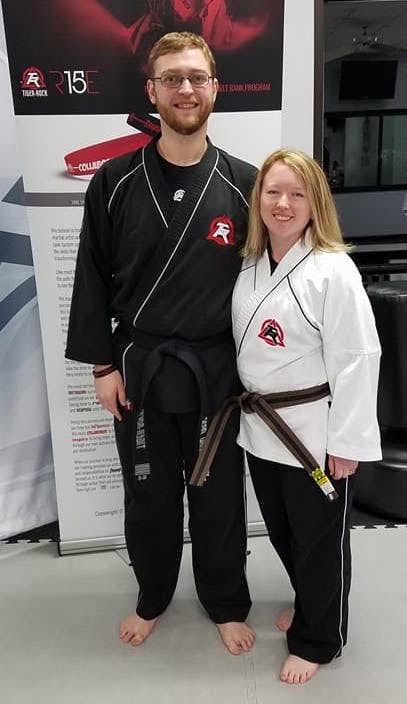 Meet Instructors Sean & Alisa Gann
Sean Gann is currently a 5th Degree Blackbelt with Tiger Rock Martial Arts.  He is married to Alisa Beth Gann who holds the rank of 2nd Degree.  Sean and Alisa met in college at the University of Alabama while in the Million Dollar Band.
Sean began training in martial arts at 12 years old in Northport, Alabama under Mr. Michael Holt, along with his sister Kayla.  He received his first degree blackbelt when he was 14 and immediately showed an interest in being an instructor assistant and helping to train the students at the Northport Academy.
When Sean headed to college in 2004, he began working as Assistant Manager and Instructor at the Tuscaloosa Hillcrest Academy.  As he finished his major in Music Education in May of 2008, Sean decided to take a hiatus from Martial Arts to pursue his career as an educator in the Alabama Public School System.  He spent 2 years as an elementary teacher at Greensboro Elementary in Greensboro, Alabama, and followed that with 6 years as the Assistant Band Director and remedial math and science teacher at Gordo High School in Gordo, Alabama.
In May of 2015, Sean began a life changing mission that resulted in a weight loss of 250 pounds as well as a much improved and healthier lifestyle.  This weight loss journey led Sean back to Martial Arts and reignited his love of training students in self-defense and life skills.
For the past four years he has worked as the manager and staff instructor at Northport Tiger Rock in Northport, Alabama.  Sean and Alisa are excited to bring Tiger Rock Martial Arts to Franklin, Tennessee and train a new generation of martial arts athletes.